Nokdim Overnight Experience
Kfar Hanokdim presents desert hospitality with a taste of Bedouin life. At the Kfar, you can experience authentic desert living in comfortable surroundings, which meet modern day needs. The Nokdim Overnight package offers guests a taste of Bedouin hospitality, including a feast, a choice of accommodation, breakfast and a beautiful camel trek through the Kana'im Valley
The package includes:
Camel trek in the Kana'im Valley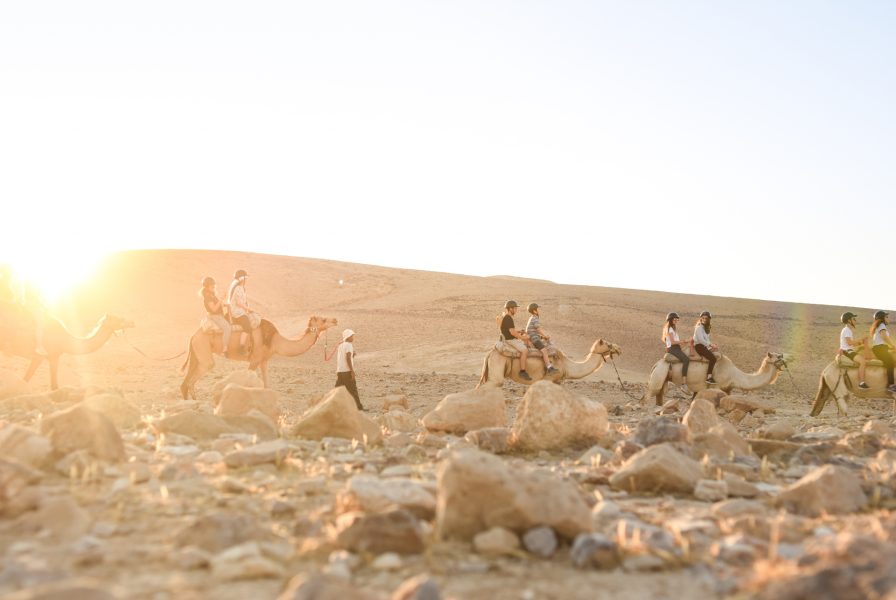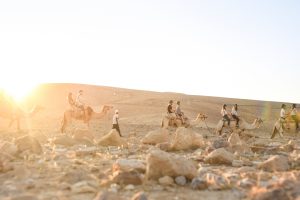 How would we manage in the desert without camels, nature's four-wheel drive? Step into our ranch and meet our beautiful herd of female camels. Once you are acquainted with your new friend, climb onto the saddle, and upsy daisy!
First we'll take the camel for a "test drive" in the desert. Guided by the Bedouin, for whom the camels are like part of the family, we will ride into the heart of the desert, into its breathtaking primeval landscape. Don't forget to snap some pictures during the special ride!
Trek duration is approximately 30 minutes. 
Camel riding is in pairs, on two-person saddles.
Camel riding is permitted from ages five to age 67, and donkey riding from age of two, accompanied by an adult.
---
Traditional Bedouin hospitality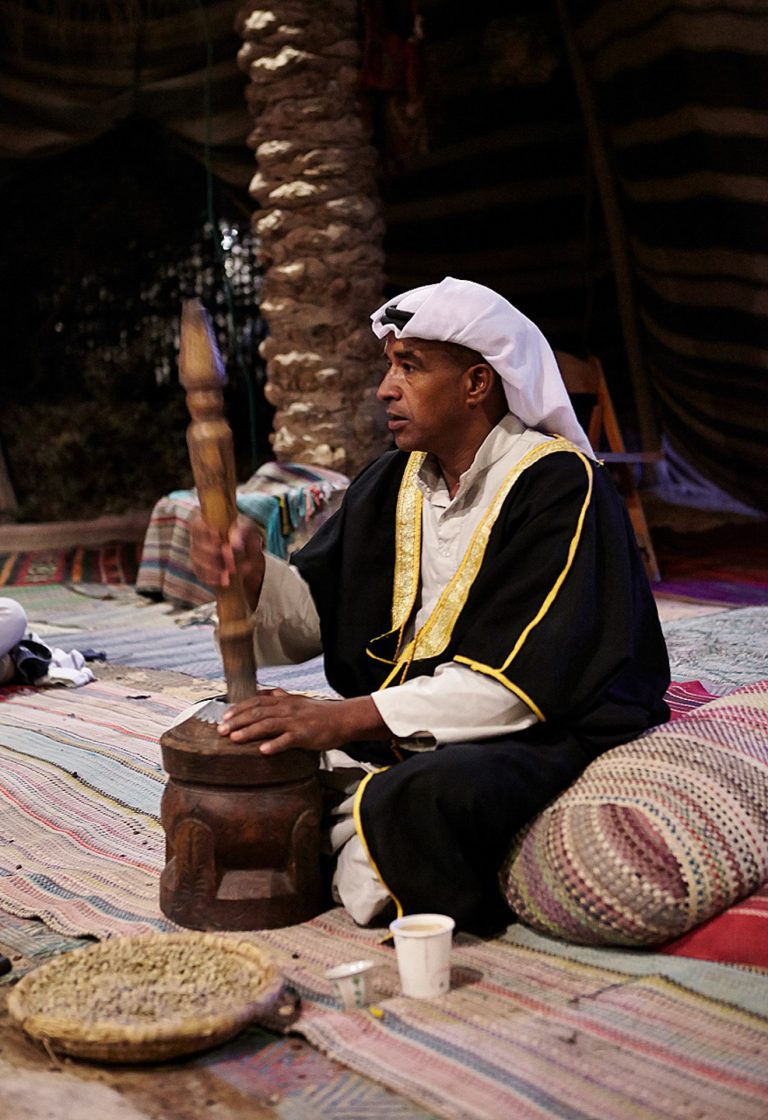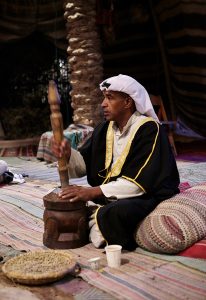 Guests are invited to relax within a spacious Bedouin tent around a campfire, where they will be honored with tea imbued from desert herbs. Next begins the traditional coffee-making ritual: the Bedouin toasts the coffee beans in front of the guests, grinds them with a mortar and pestle to the traditional rhythmic drumming beat, before brewing the coffee and serving it to guests. The activity is accompanied by explanations and stories about the Bedouin way of life.
* Please note that during holidays and weekends there will be no Bedouin hospitality.
---
The feast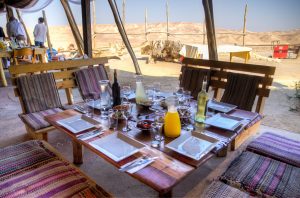 The salads are served first: seasoned Arab salad, thick tahini, homemade pickled vegetables, spicy matbucha, fried eggplant with mint, and cabbage salad with freshly ground black pepper are all brought to the tables. Together with the abundance of salads, a colorful and rich mansaf is served, made of yellow rice, lentils, a choice wheat dish, antipasti and stuffed vegetables, accompanied by thin Bedouin pita bread. A rich meat dish is served with the mansaf. For dessert steaming hot Bedouin tea is or Turkish coffee is served with different types of baklava and seasonal fruit. Throughout the meal you can quench your thirst with clear water and fresh lemon-mint drink.
---
Accommodation
At Kfar Hanokdim, we offer a diverse choice of accommodation options for you to comfortably experience the magic of the desert. Options include a desert cabin or "sukkah" lodge, as well as sleeping tents for groups and events.
Desert Cabins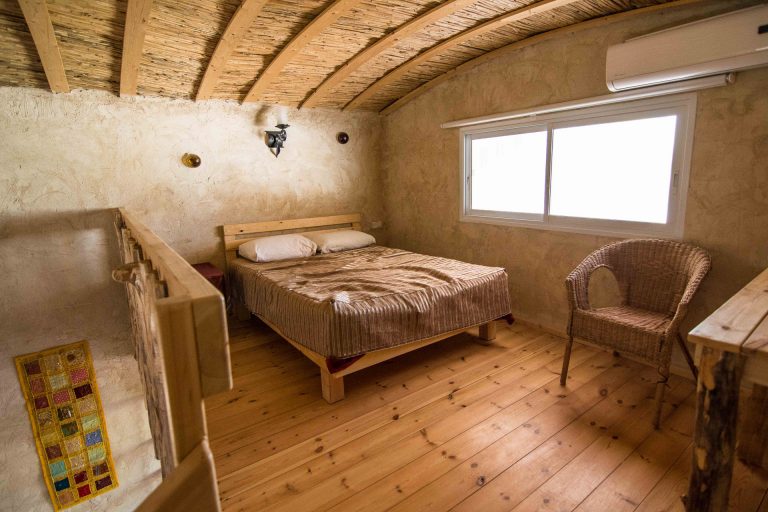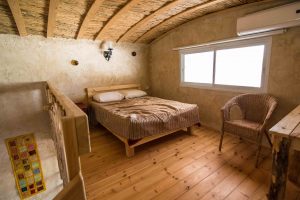 Desert-style accommodation for nature-lovers who want to feel at home.
On the outskirts of Kfar Hanokdim is a small desert hotel, with 46 desert-style rooms. The furniture in the rooms has been handcrafted by the indigenous people, made from iron, wood, local stone and Dead Sea salt crystals.  The rooms are air conditioned, have private en-suite bathroom (toiletries not included), bed linen, towels and coffee-making facilities. There is a small cooking area near the rooms.
In the evening you can enjoy the tranquility of the desert, relaxing in the grapevine roofed "zulas" (areas for lounging on rugs and pillows) scattered among the rooms, or sit around a campfire.
Most of the rooms are suitable for a couple + three (children or additional guests) or a couple + 4.
Some of the rooms are accessible for the disabled.
The cooking area includes a gas stove, worktop and refrigerator. Please note, you  will need tobring your own utensils (cookware, serving dishes, etc).
Sukkah (Lodge)
Sukka (Guest lodge)

Desert-style accommodations in charming "sukkah"(Lodge)
The sukkahs are made of material woven from goat hair, and the floor is paved with wood. The sukkah features sleeping futons, coffee-making facilities and an elevated veranda, from which you can savor the desert views over wilderness that stretches as far as the eye can see. There are bathroom facilities nearby, a small cooking area and places to chill out or build a campfire.

Each sukkah can accommodate from four to eight people.
The sukkah is equipped with air conditioning and a heater.
The sukkah is equipped with all accommodation equipment, please arrive with toiletries.
There is one electric outlet in the sukkah; please consider bringing along an electrical outlet splitter.
The cooking area includes a gas stove, worktop and refrigerator. You will have to bring your own utensils (cookware, serving dishes, etc.).
---
Breakfast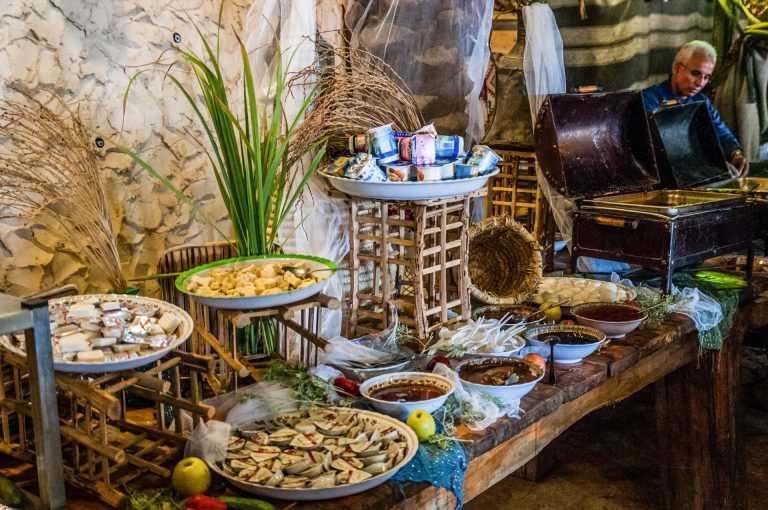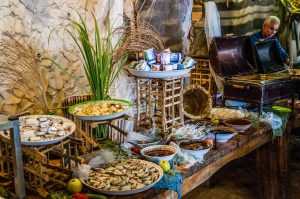 Our breakfast buffet includes all the Israeli classics:
Freshly cut and pickled vegetables, colorful salads, homemade tahini, hummus infused with olive oil, tuna, olives, boiled eggs and omelettes. We also offer a selection of cheeses, including cream cheese, Bulgarian cheese, yellow cheese, Labane and cottage cheese, alongside other treats of creals, halva, dulce de leche, jam and chocolate spread.
Spiced Bedouin tea and Turkish coffee is available.
---
For the price of the Nokdim Overnight package, please visit our reservations website, were you can find all suitable rates and options for your requested dates
During the Sukkoth and Passover holidays reservations are for half-board only for a minimum of two nights.
** Please note that during holidays and weekends there will be no Bedouin hospitality and dinner is served as a buffet.
---
Cancellation fees are as follows:
Up to two weeks prior to arrival: Cancellation fee of just ILS 50.
One to two weeks prior to arrival: 50% of the cost of the reservation.
Less than one week prior to arrival or no-show: Full cost of the reservation
In the case of extreme weather conditions or unusual security situations, there is no cancellation fee.
---
Check-in is at 15.00 (3.00 pm), check-out is at 11.00.
All reservations have to be coordinated in advance!
The Kfar is closed on weekends from July until the middle of September.
Animals are not allowed in the Kfar! Animal lovers can enjoy a small petting zoo and the herd of camels and donkeys.
Please leave your vehicle in the large parking lot at the entrance to Kfar Hanokdim for the duration of your stay. No vehicles are allowed in the Kfar.
Campfires can be built and wood for the fire can be purchased, but it's important to light fires only in the specifically allocated areas.
There are taps and drinking fountains throughout the Kfar.
There is partial reception only for mobile phones from the Orange network, and there isn't any Wi-Fi.
We would be happy to host you at the Kfar!
Please leave your details here